La sonda Juno se coloca en la órbita de Júpiter tras 5 años de viaje espacial
Comentarios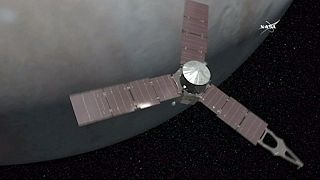 Misión cumplida.
Tras cinco años de viaje espacial, la sonda de la NASA Juno ha conseguido colocarse en la órbita de Júpiter para estudiar los secretos del mayor planeta del sistema solar.
Success! Engine burn complete. #Juno is now orbiting #Jupiter, poised to unlock the planet's secrets. https://t.co/YFsOJ9YYb5

—

NASA

(@NASA) 5 de julio de 2016
La sonda, que avanzaba a la vertiginosa velocidad de 64 kilómetros por segundo, ha frenado su trayectoria encendiendo su motor principal durante 35 minutos para colocarse en la posición adecuada y dejarse capturar por la gravedad de Júpiter.
La NASA ha retransmitido los datos del último tramo de la misión en directo, que se ha completado con éxito cuando en Estados Unidos todavía era el 4 de Julio, el día de la fiesta nacional.
Main engine burn is go. I'm burnin', burnin', burnin' for you, #Jupiter. pic.twitter.com/b3SHm3Gphj

—

NASA

's Juno Mission (@NASAJuno) 5 de julio de 2016
La sonda efectuará 37 sobrevuelos alrededor de Júpiter durante una misión científica de 18 meses que tiene un presupuesto de mil millones de dólares.