Protestas en Zimbabue contra Robert Mugabe y su política económica
Comentarios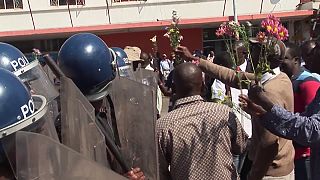 Protestas en Zimbabue contra el Gobierno y su política económica. Cientos de ciudadanos se manifestaron este miércoles en Harare, la capital, contra la decisión del banco central de crear una nueva divisa local que temen lleve al país a una hiperinflación como la sufrida en 2008.
Los manifestantes se habían citado a través de las redes sociales bajo el hastag #ThisFlag, que se ha convertido en todo un símbolo de protesta contra su eterno presidente Robert Mugabe.
How much more innocent blood must be spilled before authorities realise citizens have had enough #ThisFlag#Tajamukapic.twitter.com/muj3kp2fWX

— Peter Ndoro (@peterndoro) 17 de agosto de 2016
"Esto no es más que el comienzo de lo que será el gran movimiento, la gran protesta", decía un manifestante. "Aún no han visto nada. Cuando llegue el momento el Gobierno se dará cuenta de que debe o bien sentarse en la mesa a hablar o bien dar un paso al lado y aceptar una autoridad de transición que maneje la situación hasta las próximas elecciones".
Los cánticos y las flores dieron desgraciadamente paso a los golpes y los gases lacrimógenos de la policía antidisturbios. El presidente Robert Mugabe lleva 36 de sus 92 años de edad en el poder, siendo el mandatario más viejo del mundo. Las próximas elecciones están previstas para el año 2018.