El ataque contra los evacuados en Siria mató a 68 niños
Comentarios
Por
Luis Carballo
con
Reuters, Observatorio Sirio de derechos Humanos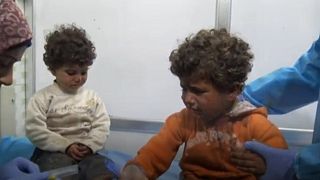 Más de la mitad de los muertos en el atentado del sábado a las afueras de Alepo son niños.
El Observatorio Sirio de Derechos Humanos asegura que 68 de las 126 víctimas mortales hasta el momento eran menores.
A trip from death to death, over 50 people killed as result of a car bomb targeting the evacuees of Kafraya and Foa pic.twitter.com/LWu9PXdWC3

— Maher Al Mounes (@Maher_mon) 15 de abril de 2017
Ningún grupo se ha atribuido la matanza durante la evacuación en autobuses de varios miles de residentes de Fua y Kefraya- dos localidades de mayoría chíí, asediadas por grupos opositores- cuando se dirigían a territorios del régimen.
Video of blast that killed 110+ mostly civilians from #Fouah#Kefraya W #Aleppo . Government sources claim jihadist Samer Kharita did it pic.twitter.com/3Wjc7pbnDN

— Kirk (@kroslav) April 16, 2017
Las evacuaciones se reanudaron el domingo, con civiles procedentes de Madaya- localidad de mayoría suní, rodeada por tropas gubernamentales- realojados en la provincia de Idlib.
El pacto para las evacuaciones, con la mediación de Catar, prevé la salida de 30.000 personas de cuatro poblaciones asediadas.